Sydney Water Accredited
Constructor/Supplier
We are one of the leading Sydney Water sewer and water main contractors with over 24 years' experience in the industry, and over 15 years' experience as a Sydney Water approved and Asset Locator.
As a fully qualified and approved Asset Locator we can provide Sydney Water Service Location Reports (also commonly known as a Pegout Report). Our experienced staff can locate all assets using the most up to date technology and equipment.
Sydney Water Supplier No. 1139 (Minor Works)
Sydney Water Licence No: SSU-QA-C-021234 (Major Works)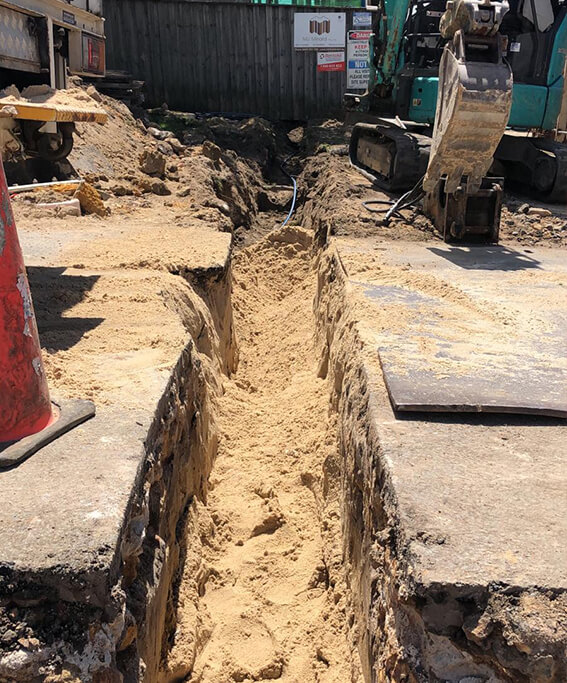 Sewer
Construction
Sewer Diversion
Sewer Concrete Encasement
Sewer Sidelines
Cutting in Sewer Junctions
Sewer Extensions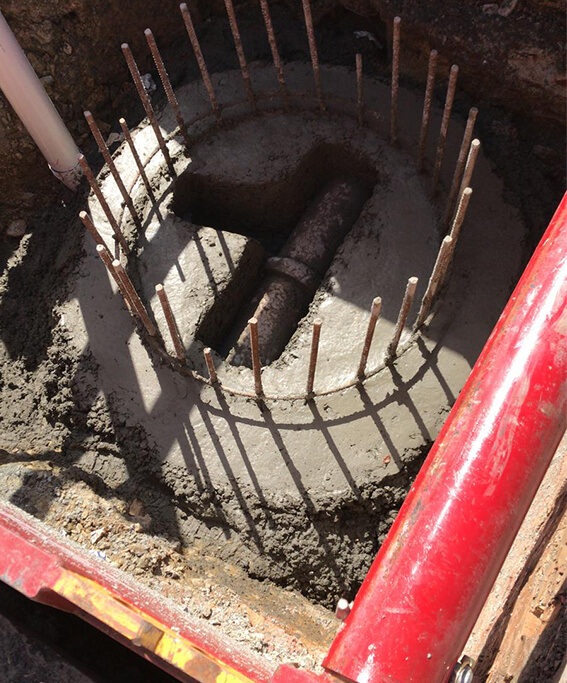 Stormwater
Construction
Stormwater Diversions
Stormwater Extensions
Stormwater Upgrades
Water Main Upgrades
Water Main Amplifications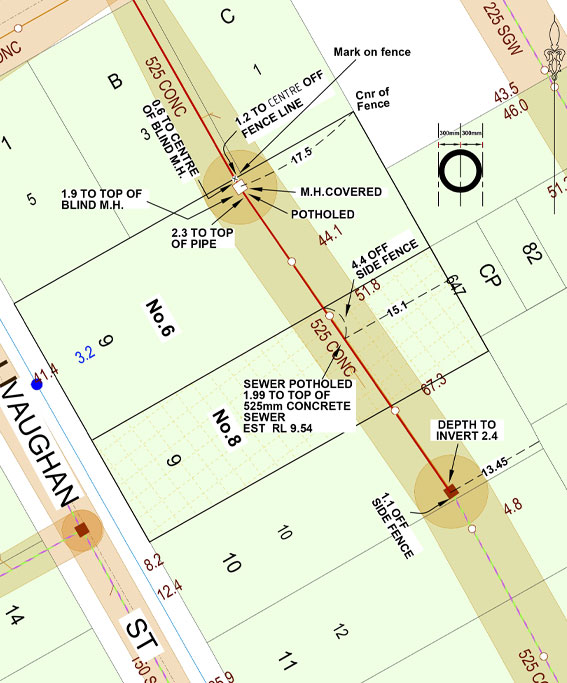 Service Location Reports
(
aka

Pegout Reports)

A Pegout is necessary if you are proposing to build over or adjacent to a Sydney Water Asset. Our Pegouts are done using the latest up to date above ground electronic location technology and CCTV imaging.
We have over 24 years experience as a Sydney Water Constructor/Supplier. We have over 26 years experience in the plumbing industry ranging from Residential to Commercial plumbing.
We provide clear, concise and accurate Service Protection Reports and offer a 48 hour turnaround on our reports.
We have a range of equipment, 1.5 tonne excavator, 13.5 tonne excavator, 5.5 tonne excavator and 3.5 tonne excavator, tipper and ute. We have the latest pipe location technology to find all your services on site.
Sewer Connection & Civil Construction Services
24/7 Emergency Sewer Services by Experts
Are you looking for professionals who would cater to top-notch sewer services in Sydney and its adjoining areas? Are you facing continuous problems with the sewer or blocked drains and all other professionals had failed to address the issue? Worry not, though. We are AQUA CIVIL PTY LTD; we take care of all your sewer related services in the most affordable manner.
Who We Are?
Bank on our words. We are AQUA CIVIL PTY LTD, a Sydney based sewer connection contractors, catering to same-day sewer related problems. Each of the issues we address is on an urgent basis and hence follow a streamlined approach to get things done for you. Being in the business for over 20 years, we know what the problem with the sewer could be. We cater to a wide range of services and hence, often tagged as one of the reputed and reliable names amongst the sewer connection contractors. We are also the one-stop service provider for all your sewer related works. Get in touch with us for the best services.
We are a registered business catering to world-class services.
Hiring Us is Beneficial for you…
Yes, amongst so many service providers, hiring us is always going to be of great benefit to you. There are so many perks associated with our services. These are:
Affordable and same day service means you are not going to bear the trouble for another day
Experts at work ensuring you get a flawless service
Use of advanced technology and equipment to cater to sewer services
Registered service providers with an experienced team of sewer connection contractors
Get in touch with us for the best services.
Sewer Services We Cater to 
Being in the business for over 20 years, we know the areas that cause problems most of the time. Therefore, with years, we added experts who could cater to a 360° solution to all the sewer related problems.
The following are some sewer services we cater to in Sydney and its adjoining areas:
General sewer civil construction
Sewer Relining
Sewer pipe replacement along with drains
Backflow prevention
We are available 24/7 for the sewer related services. We also have a team of experts who cater to building over sewer systems with precision ascertaining there is no damage caused to the building during any of the sewer services.
What makes us different from Others?
We understand the presence of several other sewer connection contractors and service providers in Sydney. We understand the level of competition and hence strive to provide services like sewer relining or sewer civil construction with zero ground for complaint. We make use of the technology to gain a cutting-edge advantage over our peers. The following are some points that make us different from others in the sewer services:
Latest technologies and techniques
Team of experienced, well-trained professionals
Use of advanced sewer CCTV in order to detect the place of problem and act accordingly
The smartest and quickest approach to solving the sewer related problem
Affordable services just at a call away
Why do you need to Attend Sewer Related Issues Immediately?
As already said that sewer forms the backbone of any building when it comes to keeping the place hygiene and safe to live in. Any fault in the sewer means, cleanliness and hygiene of the people are at stake. Therefore, we lay special emphasis on ascertaining that each of the sewer lines is clean and does not clog. We carry out a routine inspection as well as on-demand with the help of sewer CCTV to ensure that the sewer is clean. In addition to this, we try to provide the best solution and construction idea to rectify the existing problem.
Rely on our industry trained experts for sewer civil construction and general sewer services. We assure you of the best solutions. Get in touch with us at 0412828285 or 0422 055 489 for quality services. We are always there to assist you.
I have been dealing with Aqua Civil for the last 18 years co-ordinating sewer and water construction for Sydney Water. Aqua Civil have always been very professional in both construction and communication ...

Denis Mahoney (Sydney Water Co-ordinator)
From my extensive construction experience, I have found Aqua Civil to be the best in providing Drainage, Sewer and Water, Civil constructor services. Their extensive technical knowledge and many years of experience has given them a proven track record of providing civil constructor services and practical solutions in a timely manner and cost-effective. Aqua Civil are Sydney Water approved constructors who are well able to undertake required surveys, peg outs as sewer locators and exercise civil works from concept to completion with excellent application resulting in no worries to the Main Contractor.

Stephen Caldis (Director)
We have been working with Aqua Civil for many years and have always been impressed with their performance. Sam and the team at Aqua Civil are always friendly and a pleasure to work with, their knowledge within their industry is to be commended.

Jeanette Nunez