Sydney Water Accredited
Constructor/Supplier
We are one of the leading Sydney Water sewer and water main contractors with over 24 years' experience in the industry, and over 15 years' experience as a Sydney Water approved and Asset Locator.
As a fully qualified and approved Asset Locator we can provide Sydney Water Service Location Reports (also commonly known as a Pegout Report). Our experienced staff can locate all assets using the most up to date technology and equipment.
Sydney Water Supplier No. 1139 (Minor Works)
Sydney Water Licence No: SSU-QA-C-021234 (Major Works)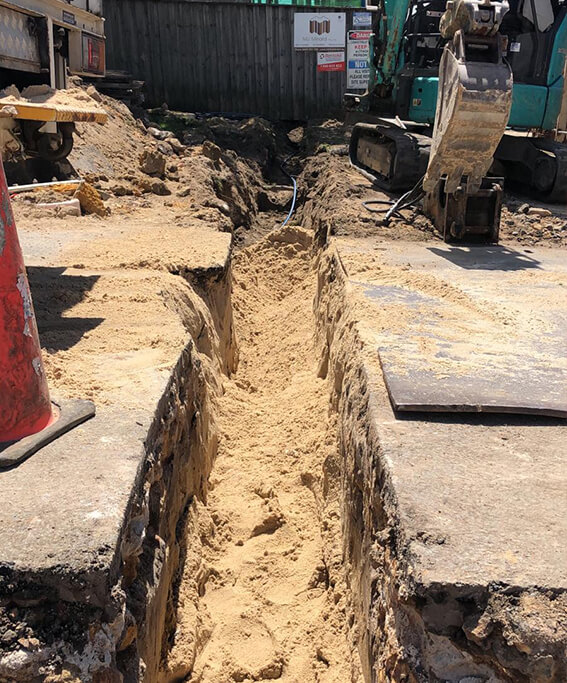 Sewer
Construction
Sewer Diversion
Sewer Concrete Encasement
Sewer Sidelines
Cutting in Sewer Junctions
Sewer Extensions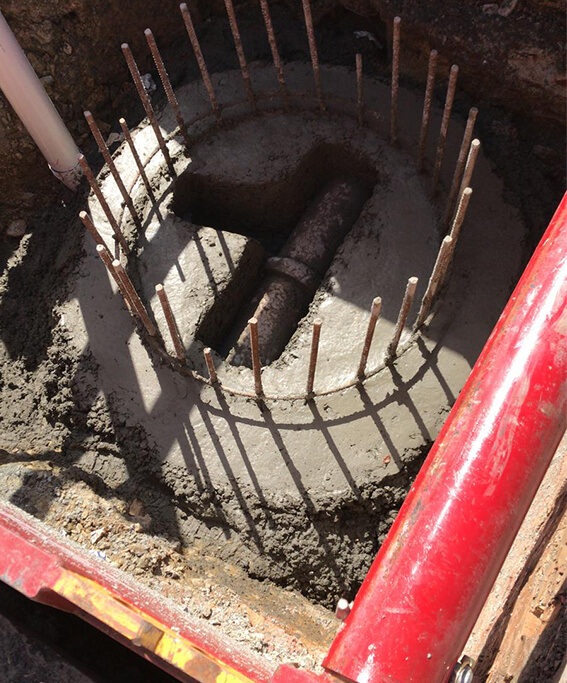 Stormwater
Construction
Stormwater Diversions
Stormwater Extensions
Stormwater Upgrades
Water Main Upgrades
Water Main Amplifications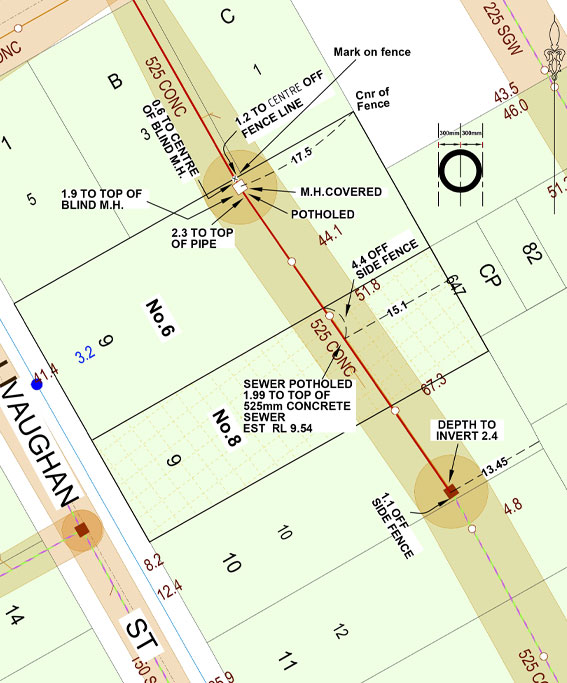 Service Location Reports
(
aka

Pegout Reports)

A Pegout is necessary if you are proposing to build over or adjacent to a Sydney Water Asset. Our Pegouts are done using the latest up to date above ground electronic location technology and CCTV imaging.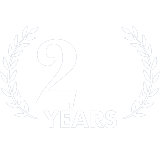 We have over 24 years experience as a Sydney Water Constructor/Supplier. We have over 26 years experience in the plumbing industry ranging from Residential to Commercial plumbing.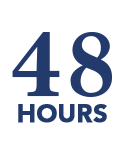 We provide clear, concise and accurate Service Protection Reports and offer a 48 hour turnaround on our reports.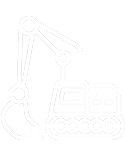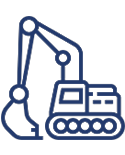 We have a range of equipment, 1.5 tonne excavator, 13.5 tonne excavator, 5.5 tonne excavator and 3.5 tonne excavator, tipper and ute. We have the latest pipe location technology to find all your services on site.
Solution for Blocked Sewer Sydney 
#1 Blocked Sewer Service Providers in Sydney- Available 24/7
Sewer blockages can be one of the worst experiences that a person can ever have. Right from water overflowing to posing a threat to hygiene and safety, a blocked sewer is to be addressed at the earliest. Sewer blockages are common and in fact, chances are pretty high. Therefore, an expert's help is required instantly for the best services.
Expert Services for your Blocked Sewer Lines in Sydney
We offer a complete plumbing solution to our clients in Sydney. We have experienced professionals catering to the different facets of the sewer problems. We help you in solving the problem and saving your property from the damage that might be caused because of the sewer blockage. We keep in mind all the safety concerns of the people around and working.
Being in the industry for over 20 years, we know what it takes to clear a blockage from the sewer. Therefore, hiring us would help you explore a hassle-free service. Our great plumbing services and associated professionals consider all the possible options that would lead to an affordable, quick sewer cleaning service. Our experienced persons at work are equipped with advanced devices and technologies that make it easy to identify that area of blockage and address it effectively and efficiently.
360° 24/7 Sewer Block Removal Services in Sydney
We are the experts dealing with blocked sewer and related plumbing works in Sydney. Being in the industry for years, we have understood how things work. Therefore, right from the initiative to keep things simple, we also make use of the advanced assessment system to diagnose the problem and fix it.
Our experts are always at work to provide you with a 360° solution to your problem. We are just a call in Sydney when it comes to addressing the issue related to a blocked sewer.
At AQUA CIVIL PTY LTD, you would be getting the following benefits:
Thorough Inspection
Impeccable cleaning by means of advanced techniques
Hydro-jetting to clear any coagulation
Why do you need Frequent Sewer Cleaning?
Sewer is an important infrastructure of any building- residential or commercial. It carries waste from the building and ensures safety and hygiene. It forms the pillar of healthy living. However, all these perks are at stake if not cleaned properly. Therefore, we recommend hiring professionals in Sydney who are associated with cleaning blocked sewer lines. We expect people to get them cleaned at regular intervals. This would prevent the emergency situation and last moment hassles.
Why Hire Us?
With the presence of so many service providers, we top the preference list of many. Reason being our professionalism and years of experience. 20 years and counting means we have been exposed to all sorts of challenges related to sewer blockage. We keep things simple and affordable. Besides, we ensure that the work is done in the shortest possible time without compromising the quality and disrupting your daily work.
Get in touch with us for the best services. Call 0412828285 and 0422 055 489 for more details. We cater to blocked sewer lines in Sydney and its adjoining areas.

I have been dealing with Aqua Civil for the last 18 years co-ordinating sewer and water construction for Sydney Water. Aqua Civil have always been very professional in both construction and communication ...

Denis Mahoney (Sydney Water Co-ordinator)
From my extensive construction experience, I have found Aqua Civil to be the best in providing Drainage, Sewer and Water, Civil constructor services. Their extensive technical knowledge and many years of experience has given them a proven track record of providing civil constructor services and practical solutions in a timely manner and cost-effective. Aqua Civil are Sydney Water approved constructors who are well able to undertake required surveys, peg outs as sewer locators and exercise civil works from concept to completion with excellent application resulting in no worries to the Main Contractor.

Stephen Caldis (Director)
We have been working with Aqua Civil for many years and have always been impressed with their performance. Sam and the team at Aqua Civil are always friendly and a pleasure to work with, their knowledge within their industry is to be commended.

Jeanette Nunez